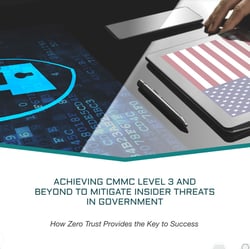 Achieving CMMC Level 3 and Beyond to
Mitigate Insider Threats in Government and Defense
With the migration to the Cloud, BYOD, and COVID19 creating a world-wide remote workforce, there truly is no perimeter anymore. Now more than ever, we need a seamless way to adapt our cyber defenses to also look towards the inside and proactively secure data.
For government and defense industry, the solution also has to scale to meet the demands of both the DOD and the critical infrastructure players and map to critical controls laid out in NIST 800-171, 800-53, and CMMC – primarily CMMC Levels 3-5.
How Zero Trust Provides the Key to Success
In this White Paper, we will discuss how extending a Zero Trust approach used for system and application access to file access and sharing ensures compliance with CMMC standards for collaboration of FCI and CUI.
You will learn:
The information security challenges facing government and defense today.
Understand the CMMC requirements for collaboration of FCI and CUI.
How to apply the zero trust methodology to the data layer using Attribute Based Access Control (ABAC) to meet and enforce key CMMC capabilities.
Who should read this:
CMMC Program Leads
Defense Contractors
C3PAOs
IT Teams responsible for SharePoint & Microsoft Teams
Information Security Teams