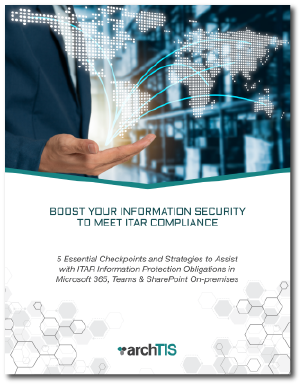 Boost Your Information Security to Meet ITAR Compliance in Microsoft 365, Teams and SharePoint
The U.S. Government requires all manufacturers, importers, exporters, and brokers of defense articles, defense services or related technical information to meet International Traffic in Arms Regulations (ITAR) compliance. Applying these regulations to your business and to those within the greater supply chain introduces additional costs, rigor, and complexity to your processes.
This white paper introduces 5 essential checkpoints of ITAR and provides strategies to assist with compliance and cyber resilience.
Download this white paper to learn:
The essential 5Ws of ITAR information protection.
Why ITAR compliance is important to importers and exporters of defense-related items.
Compliance requirements and strategies to assist you to achieve them in M365, Teams and SharePoint Online and on-premises environments.
Who should read this:
ITAR Program Leads
Defense Contractors
IT Teams responsible for SharePoint & Microsoft Teams
Information Security Teams