Optimize M365 for Controlled Content Services
Microsoft 365 enterprise presence is becoming ubiquitous. According to AIIM research, 93% of organizations surveyed earlier this year use M365 in some fashion and 50% consider M365 to be their primary Content Management solution.

The exploding work-from-home trend and the rapid evolution of Microsoft Teams as a front-end to collaboration, information sharing, and knowledge management has caused that number to increase across the M365 platform – in more users AND in broader utilization among existing users.

While this massive growth enables thousands of organizations to maintain connectivity and productivity, it also presents new levels of complexity. As such, the desired functionality – and symptomatic challenges – of a typical content services platform adoption are also present with M365 adoption and optimization.
Download your free copy of this eBook to learn more on how the extensive research and conversations among the AIIM Microsoft user community reveal these key implementation and optimization trends.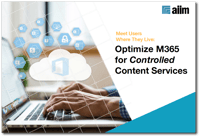 Who should read this:
Microsoft 365 Application Users
IT Teams responsible for SharePoint & Microsoft Teams
Information Security Teams