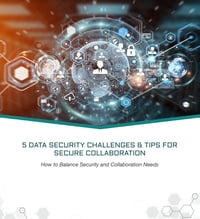 5 Data Security Challenges to Modern Collaboration
Plus 5 Tips for Balancing Security and Collaboration Needs
Team collaboration within the workplace has been evolving steadily for several years. From the early days of email attachments and network shares to the cloud-based document centric tools that are available today.
In parallel, the data security and protection needs have also changed as collaboration has moved data beyond fixed office locations and corporate firewalls, cybersecurity threats have increased and new data protection regulations have come into effect.
This paper will:
Explore the underlying factors driving how people now use and share information and the impact that has had on how organizations need to protect their sensitive data.
Examine how the competing needs of users, IT Security and Information Security can result in serious data security risk within an organization, and;
Some of the considerations for mitigating that risk.